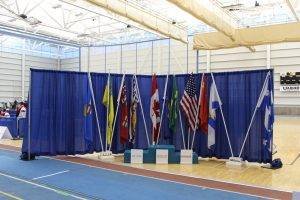 Whether it is the Women's Artistic, High School, or Interclub or at the KGTC Invitational, the level of gymnastics we have on offer for you this March, promises to have something for everyone.
All events take place at the Tournament Capital Centre, Kamloops, British Columbia and are open for viewing to the community.
This year marks the 24th annual KGTC Invitational. Welcoming approximately 600 athletes from across British Columbia to Kamloops from Friday, March 16, 2018 (High School competition) with Women's Artistic on Saturday, March 17, 2018 and Interclub on Sunday, March 18, 2018 the anticipated numbers including spectators can draw close to 1,000 individuals!
If you have any questions, please feel free to contact Member Services (250.374.6424) and they will direct you to the right person.
---
SCHEDULES FOR ALL EVENTS
View KGTC Invitational Schedule for Women's Artistic, High School, Performance and Performance +
---
RESULTS
View Women's Artistic Official Competition Results